What is Banniere
Banniere produces high quality silk scarves designed by local artists in cities around the world. Founded on the values of collaboration, quality, and travel, Banniere works closely with a variety of artists to produce designs that reflects the culture and lifestyle of each artist's beloved city.
STUBBS & WOOTTON X BANNIERE
This Spring, we teamed up with our favorite Palm Beach brand, Stubbs & Wootton to create a collection of silk and linen shoes with one of our most popular prints. Together, we explore the alluring and vibrant country of South Africa, with our South African artist, Arabella June. The collection includes Banniere's own handcrafted luxurious silk slipper, with our South African design and a few jungle embroidered linen shoes for both men and women. Additionally, we came out with a jungle print mini silk and leather tote for on the go.
This vivacious collection will have you transported amongst a wonderful diversity of plant species and wildlife that make up the Cape Floral Kingdom.
Shop Collaboration ->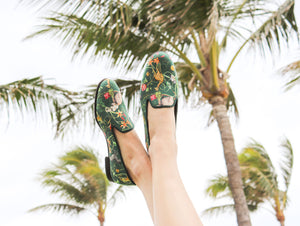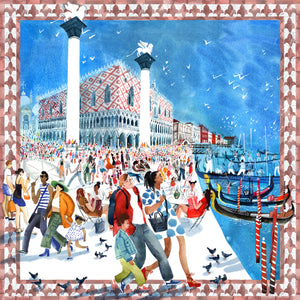 Falling for VENICE
Transport yourself to the beautiful canals of Venice. We teamed up with artist Victoria Tentler-Krylov who is an architect turned editorial and children's illustrator and author. She is inspired by fantasy and the possibilities that are found in urban landscapes, especially those cities that are near and dear to her, like Venice. Her favorite medium is watercolor and what better way to capture the elusive magic of Venice that is so intrinsically tied to water. 
Shop Now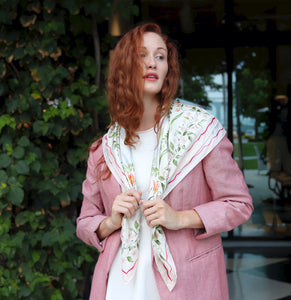 The Washington D.C. Scarf
Our much anticipated Washington D.C. Scarf in collaboration Riley Sheehey, a talented watercolor, multimedia artist and textile designer. This DC scarf design features all the best parts of this historical city mixed in with Riley's signature botanicals including the cherry blossoms and tulips that cover the city each Spring. 
Shop Now
Take Me To Lyford Cay..
In Collaboration with LULU DK, we are pleased to introduce to you our latest release, Lyford Cay, Bahamas.
The artist, Lulu grew up spending her vacations in Lyford and currently lives there with her family. Living amongst the flora and fauna of the Bahamas with sun-drenched beaches, turquoise waters and electric pink bougainvillea, her tropical surroundings have shaped Lulu into the skilled artist she is today.
shop now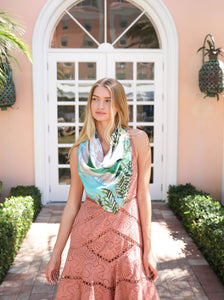 30 UNDER 30
Thrilled to be a part of this year's Palm Beach Illustrated 30 Under 30. There's no place I'd rather call home.
Read More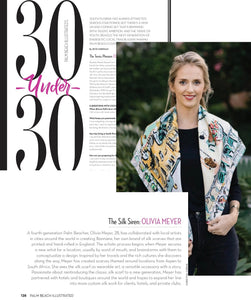 The Dallas Scarf
Introducing our DALLAS Scarf 💥
We teamed up with mother-daughter duo, Carrie & Seash who together have a custom art and textile design studio. Carrie is known for her painting, furniture and landscape design. She also created golf course design renderings early on in her career for her father Roy Dye and uncle Pete Dye, a legend in the golf world. 
Seashols, an SMU alumna, resided and painted in the city afterwards. 
In this lively Dallas design, she incorporates hidden symbols of the city she adores, including the Bluebonnets and the beautiful Monarchs they have in the Spring.
Shop Now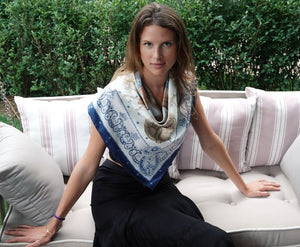 Faena Hotel Exclusive
This is a collaboration with the Faena Hotel in Maimi Beach. The two designs, Faena Poolside and Theatre, draw characteristics from this brilliantly designed cultural district, bringing art to life. 
Shop Now
Aspen Style
With the winter rolling in, we are thrilled to release this Aspen Scarf, designed by the lovely artist, Alexandra Williams.
This design is a tribute to her favorite place, showcasing the picturesque beauty of the Rockies, the chic slope style of the skiers, and of course, the aprés ski Aspen is famous for. On winter afternoons, you can find her having a glass of Champagne at Cloud Nine and taking the run down 'Apple Strudel.'
Shop Now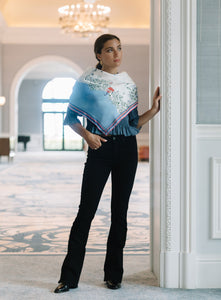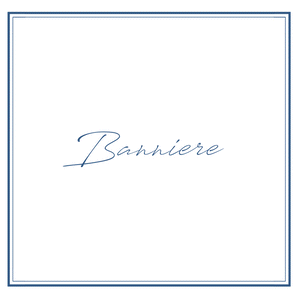 How to Tie
10 Creative Ways of How to Tie Your Scarf
Looks